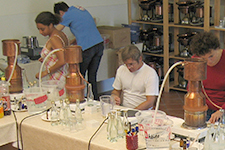 In our Essential oils and hydrosols online seminar and Essential oils workshop, learn how to make aromatic oil and toilet water yourself easily at home (short guide). Many essential oils and hydrosols are used in aromatherapy and aroma care. The course covers correct harvesting, crushing, distilling, the design and construction of a still, numerous recipes for oils and hydrosols, and the extraction of the oil.
Online seminar for essential oils and hydrosols
Learn all the steps in a practical way in the making essential oils and hydrosols course by means of photos, videos, descriptions and diagrams. You can watch us in the individual work steps via videos. In the Essential oils and hydrosols online seminar, you learn at your own personal speed with a test and certificate.
The online essential oils and hydrosols seminar is independent of time and place.
In the course, you will learn all the topics for making essential oils and hydrosols: When should I harvest the plants? Which herbs, woods etc. can I use to make oil? How are the plants prepared for distillation? What problems can arise and what can be done? How can I construct a still for essential oil and hydrosols? How does the distillation take place in detail? How do you extract the essential oil? How can the hydrosol and oil be further processed?
You will also find an extensive collection of recipes for essential oils, hydrosols and their uses.
Workshop: Essential oils and hydrosols courses
In one and a half days, you will discover the secrets of making scented oils and plant water in the Essential oils and hydrosols workshop. On the first day in the scented oil seminar, you will learn the theory, and on the second day the practice. In the essential oils workshop, you will distill your essential oils and hydrosols yourself with your own still. Afterwards, you will extract the essential oil that you made yourself from the hydrosol and further process it into perfume, massage oil, bath salts and soap. The course takes place in Klagenfurt am Wörthersee (Carinthia, Austria).
In the essential oils and hydrosols workshop, you will independently undertake all the work steps from the distillation through to extracting and processing the oils.
In the seminar on scented oils and herbal water, you will distill the following products over the course of the day:

Lavender
Rosemary
Eucalyptus
Cinnamon
Juniper
Cloves
Chamomile
Oranges, lemons
Lemongrass
and other varieties…

The seminar is suitable for both beginners and advanced distillers, because in the seminar you will be shown how to maximize the oil yield through various measures and how to create the most intensive hydrosol possible.