Make Essential Oil at Home – Books

English Version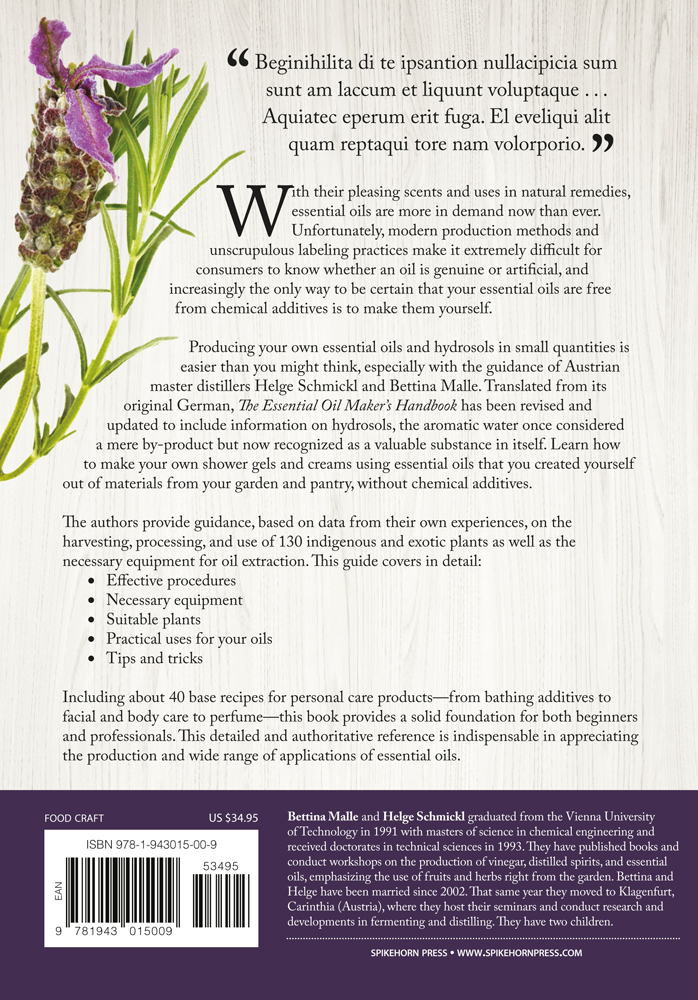 Bettina Malle, Helge Schmickl
Publisher: Spikehorn Press U.S.A.,
© 2015
132 pages, hardcover, full-color
photographs & illustrations
ISBN: 978-1-943015-00-9

German Version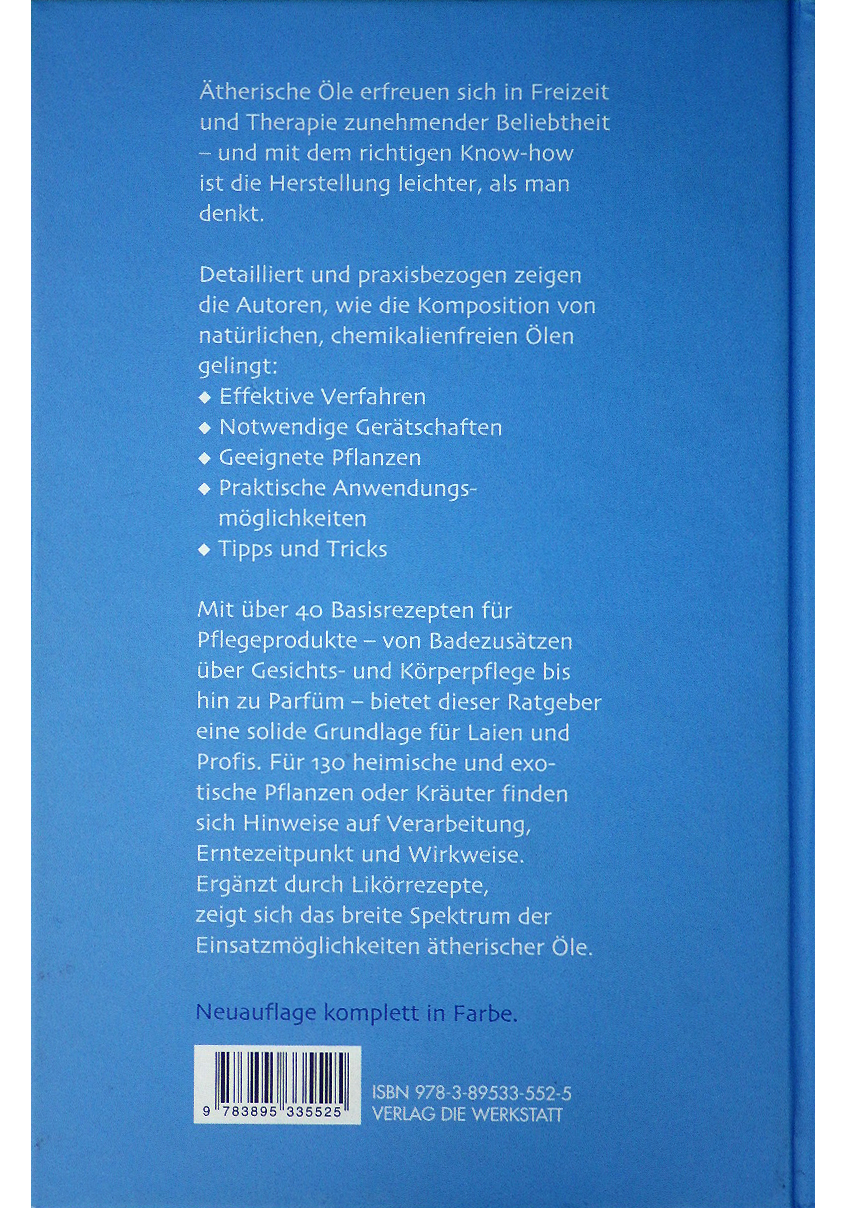 Bettina Malle, Helge Schmickl
Verlag Die Werkstatt
6. Auflage 2017
192 Seiten, Hardcover,
durchgehend farbig bebildert
ISBN: 978-3-89533-552-5
120 plants: harvest + crushing + plant part used + yield
Bettina Malle – Helge Schmickl
E-Book
40 pages, 2019, 1st edition
Price: 12,00€
Harvesting, crushing, distilling, extracting oil – a step-by-step guide
Bettina Malle – Helge Schmickl
E-Book
29 pages, 2019, 1st edition
Price: 9,00€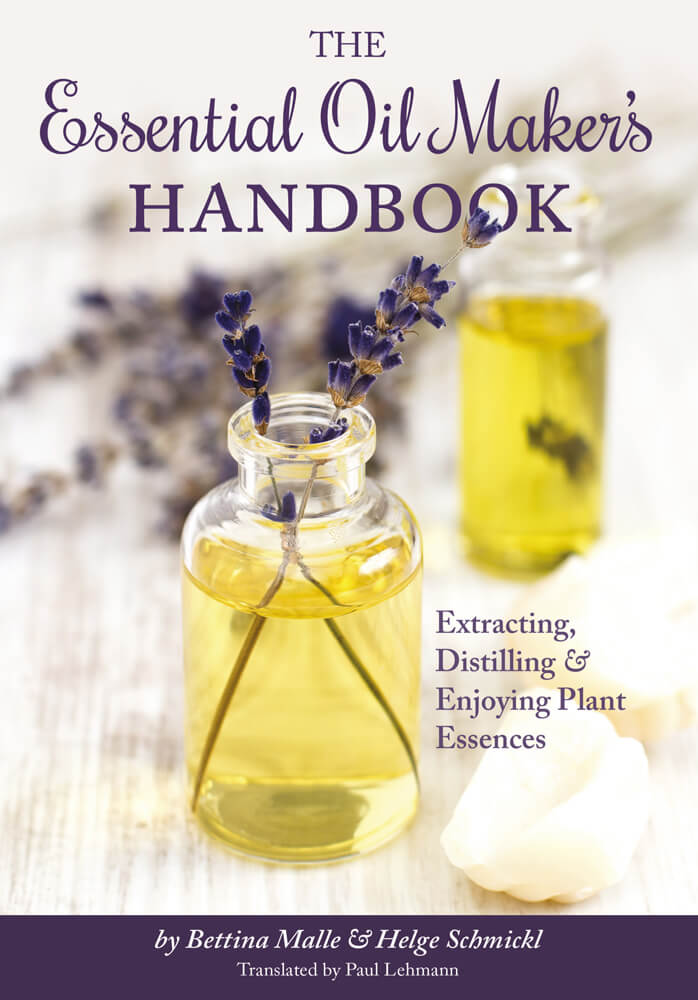 The Essential Oil Maker's Handbook – A Practical Guide
How to make essential oils? If you would like to make your own essential oils and hydrosols in the best quality, you can learn the art of distilling hands-on with the help of our book The Essential Oil Maker's Handbook:
Harvesting and preparing the plants – the foundation for homemade oils and hydrosols
Distillation – a detailed guide
Making essential oils and hydrosols yourself – the still
Separating the essential oils
Numerous essential oil recipes for distilling essential oils and hydrosols, as well as for using them.
Harvesting and Preparing the Plants
To obtain essential oils and full-bodied hydrosols, you must first of all harvest the plants at the optimum time (time of day) and prepare them for distillation. The quality of the drugs, the harvesting time of the plants and the preparation before distillation are the foundation for successful oil distillation. If you use improperly harvested plants and incorrectly crushed materials, you can never expect a high oil yield and intensive hydrosol. You will find exact guides and recipes for distillation in the book (videos and pictures in the Essential Oil Online Course).
Distillation
The book also contains a detailed description of distilling: How much water should I put in the still? How many drugs can I put in the still in proportion to the water? What is the optimum distillation speed? What collecting vessel should I use? Naturally, you can also find more answers on this in our Making Essential Oils Courses.
How should the optimum distillation equipment be set up correctly from a process technology perspective? What is the LEONARDO® still? What materials can I use? How to make essential oil stills or recognize a functional still? Regardless of whether you would like to build the still yourself or buy it, here you can acquire the necessary know-how to end up with the perfect steam still for making your own essential oils.
Separating the Essential Oils
Detailed description of separating the oil: When can I separate the essential oils from the hydrosol? What equipment do I need for this? Where and for how long can I store oils and hydrosols?
Recipes
Numerous recipes – how to make essential oils at home for homemade oils and hydrosols as well as for creams, soaps, perfumes, deodorants, etc. Discover how you can make the greatest variety of products at home yourself.
Table of contents:
Preface
Introduction
A short excursion into history
The basics
What are essential oils?; Uses; Extraction methods; Steam distillation; Fractional distillation; Cold pressing; Extraction method; Solvent extraction; Enfleurage; Maceration; Resinoid process; Carbon dioxide extraction; Assessing the quality
Making your own oil, step by step
Steam distillation; The principle; Stills; Constructing your own still; Tea kettle, Pressure cooker; Wok still; Classic still with a lyne arm; Classic still with a vertical cooling system; Glass still; Buying a still; Small stills; Large stills; Preparing the plants; Harvest; Crushing the plants; The distillation process; Filling; Distilling; Double distillation; Cold pressing; Enfleurage; Hydrosol-oil separation and yield calculation; Syringe; Pipette; Separator funnel; Automatic oil separator; Florentine flask; Cleanliness; Calculating the yield; Storing oils
Distillable materials
Description including yield, harvesting time, which parts of the plant contain oil and their optimal treatment: Allspice/pimento, Angelica, Aniseed , Basil, Bay leaves, Benzoin, Bergamot, Birch, Bitter orange/neroli, Broom, Cajuput, Camphor, Caraway, Carrot, , Cardamom, Cedar, Celery, Chamomile, Cilantro, Cinnamon, Clary sage, Clementine, Clove, Cotton lavender, Cypress, Davana, Dill, Elecampane, Eucalyptus, Fennel, Fir, Frankincense, Garlic, Geranium, Ginger, Grapefruit, Ground ivy, Hemp, Hogweed, Hops, Hyssop, Iris, Jasmine, Juniper, Larch, Lavandin, Lavender, Lemon, Lemon verbena, Lemongrass, Lime, Lovage, Magnolia, Marigold, Marjoram, Mint, Mimosa, Mountain pine, Mugwort, Myrrh, Myrtle, Narcissus, Nutmeg, Oakmoss, Orange, Oregano, Palmarosa, Palo santo, Parsley, Patchouli, Pepper, Petitgrain, Rockrose, Rose, Rosemary, Rosewood, Sage, Sandalwood, Savory, Scots pine, Spike lavender, Spikenard, Spruce, St. John's wort, Strawflower, Tagetes, Tansy, Tarragon, Tea tree, Thuja, Thyme, Tuberose, Turmeric, Valerian, Vetiver, Violet, Wild garlic, Wormwood, Yarrow, Ylang-ylang
Using the oils
Base substances and materials; Safety precautions; Bath additives; Facial and body care; Hair care; Shaving; Soap; Perfume; Miscellaneous
Frequently asked questions
Epilogue
Harvest calendar
Index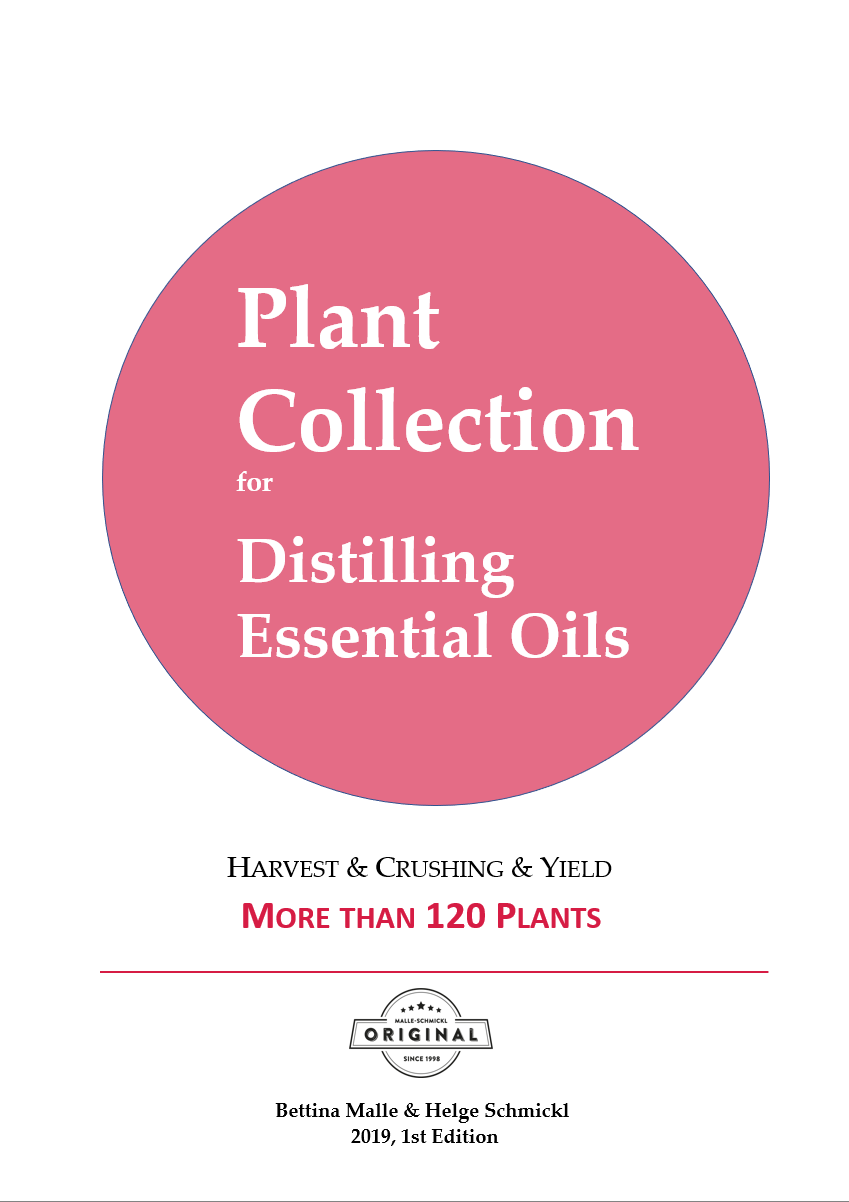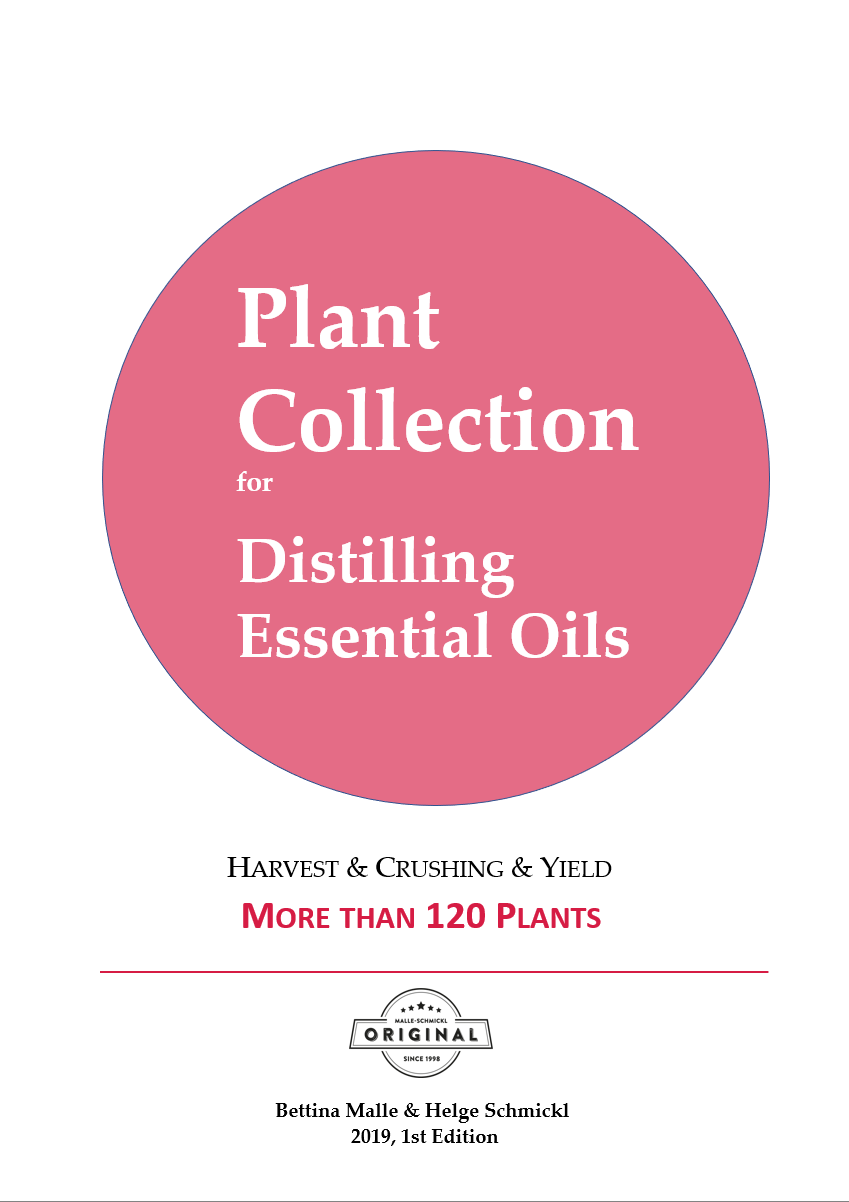 Plant Collection: Essential Oil Recipes
This extensive plant collection with essential oil recipes was compiled by us over many years in the context of our making essential oils courses. It includes both classics such as lavender, rose, chamomile, rosemary, orange, lemon, mountain pine and more unusual plants such as eagle wood, balsam poplar and Paolo Santo. You will also find the plant part used, harvest time, type of crushing and yield of essential oil for each plant in a short and clear format.
Price: 12,00€
Table of contents:
Basic recipe for steam distillation
Recipe collection from A-Z: over 120 different plants are shown for oil extraction
In each recipe, the part of the plant to be distilled, the method of production, is determined. Details of the harvest, the method of crushing and the expected yield of essential oil are given.
What will you be able to do thereafter?
Produce essential oils from different plants.
With the help of this extensive recipe collection you will get a feeling for which plants are to be crushed and how they can be crushed.
After you have tried the first recipes, you can process your own herbs and plants using one of the many examples.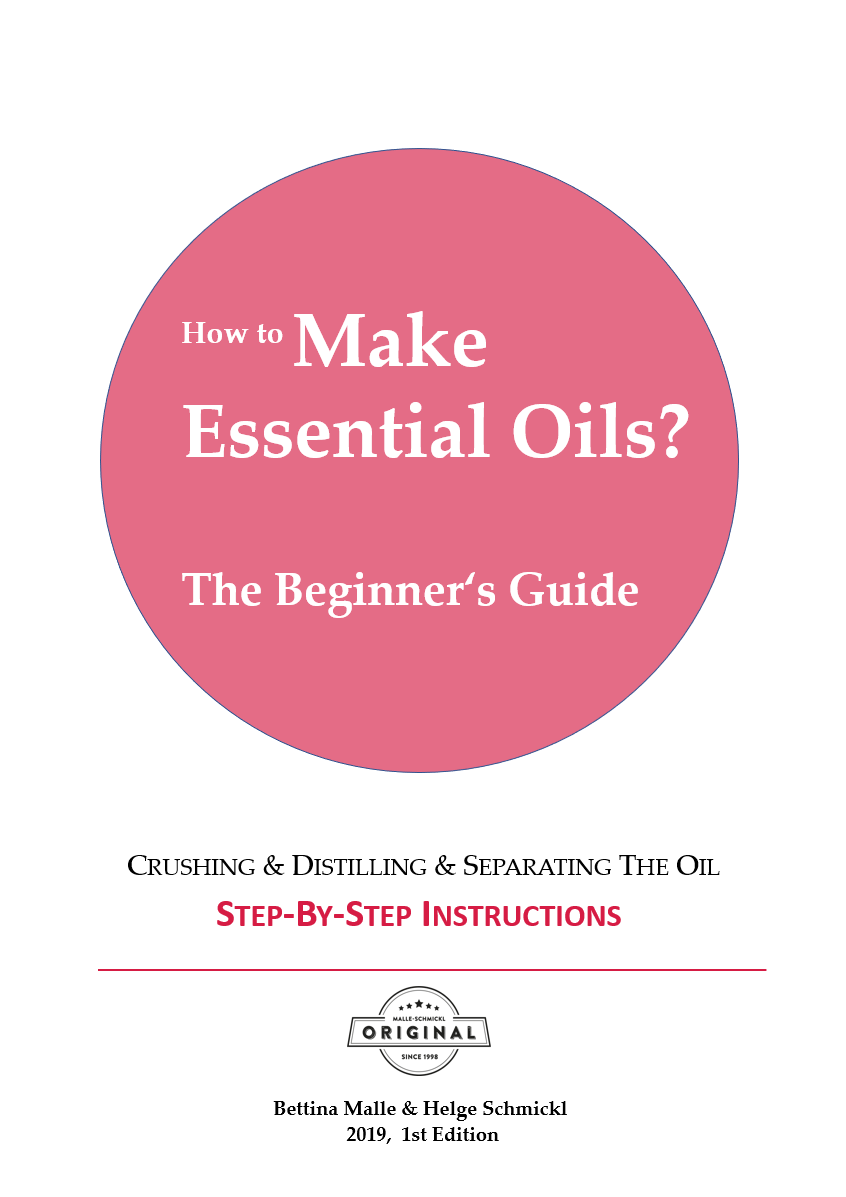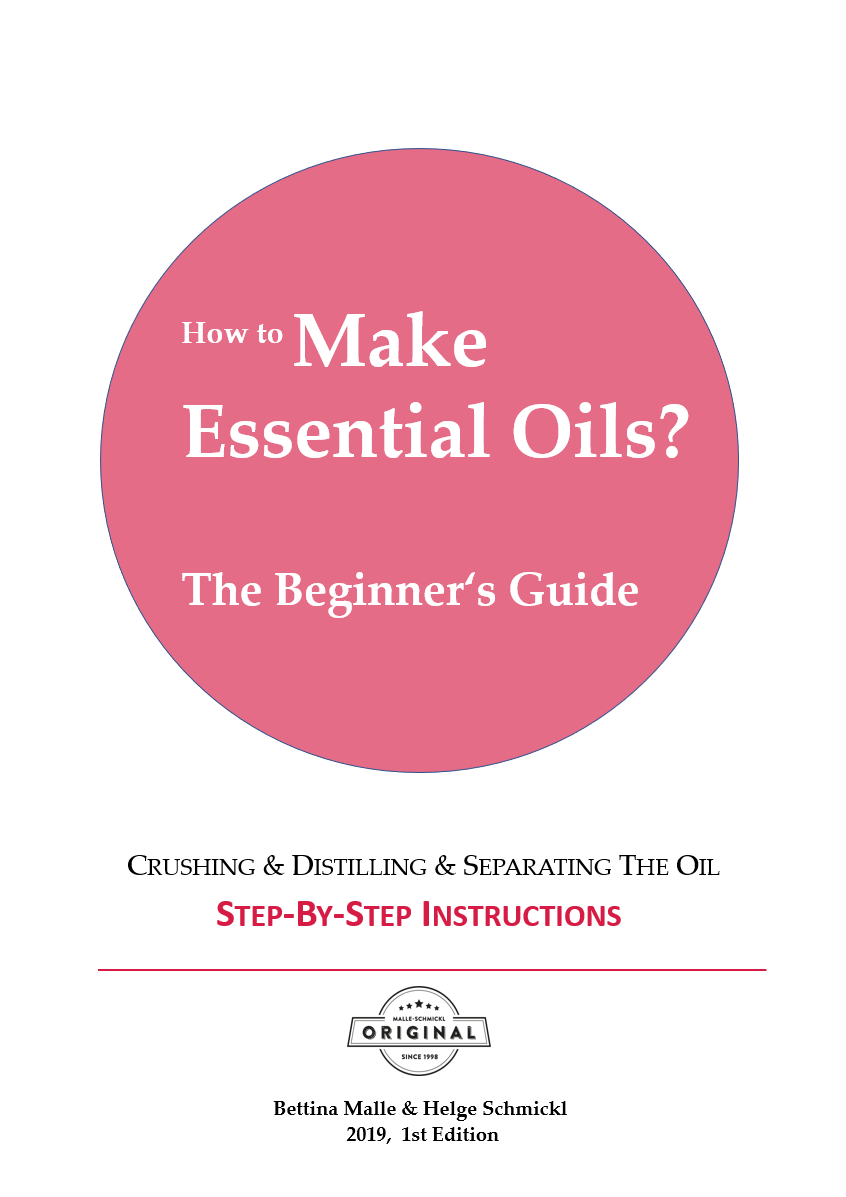 Make Your Own Essential Oil
The compact manual to make your own essential oil and hydrolates: Learn in short step-by-step instructions how to produce essential oils and hydrolates by distillation, enfleurage, cold pressing and maceration. No background explanations are given, and the manual goes straight into the individual production steps.
Price: 9,00€
Table of contents:
What is an essential oil and hydrolate
What equipment does one need?
How to extract essential oil by cold pressing?
How and with which plants do you make enfleurage?
How does oil extraction by maceration work?
How is steam distillation carried out?
How can the plants be properly prepared for this?
How is the essential oil separated from the hydrolate?
How are essential oils and hydrolates properly bottled and stored?
What will you be able to do thereafter?
To perform a cold pressing
Extract essential oil by enfleurage
Maceration of plants
Appropriate preparation of the plants for steam distillation
Do-it-yourself production of essential oils and hydrolates by steam distillation
The correct storage of essential oils and hydrolates
knowledge of the equipment required for steam distillation, enfleurage, cold pressing and maceration
Copy link
Zum kopieren alles markieren und CMD+C (Strg+C) drücken.