The Essential Oil Maker's Handbook
The Essential Oil Maker's Handbook is the only practical guide that explains the production of essential oils and hydrosols in a small scale. Hobby-distiller as well as research institutes, herbalists and reseller of stills refer to our boook as a basic knowledge. In this book you find all about the oil and hydrosol production step by step: harvesting the plants, crushing the drugs, distilling, construction of a water steam still, separating the esential oil, recipes, converting the oils and hydrosols. The German book is meanwhile a bestseller since 15 years.
If you proceed the book, you will sucessfull receive your essential oils and hydrosols and the destillaton will becone a wonderful activity with plants.

English Version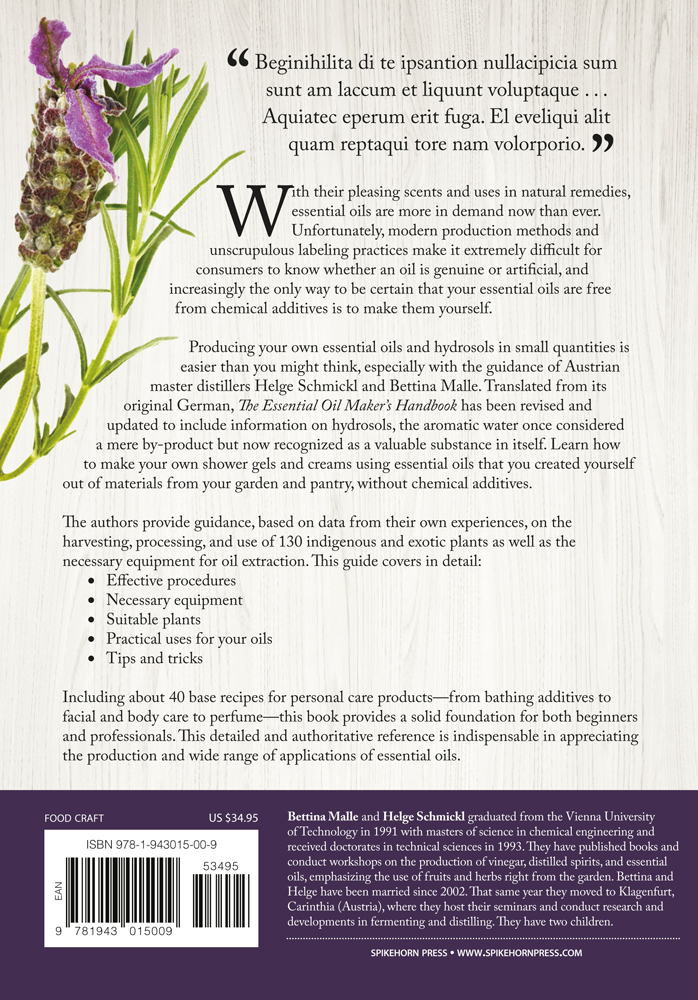 Bettina Malle, Helge Schmickl
Publisher: Spikehorn Press U.S.A.,
© 2015
132 pages, hardcover, full-color
photographs & illustrations
ISBN: 978-1-943015-00-9

German Version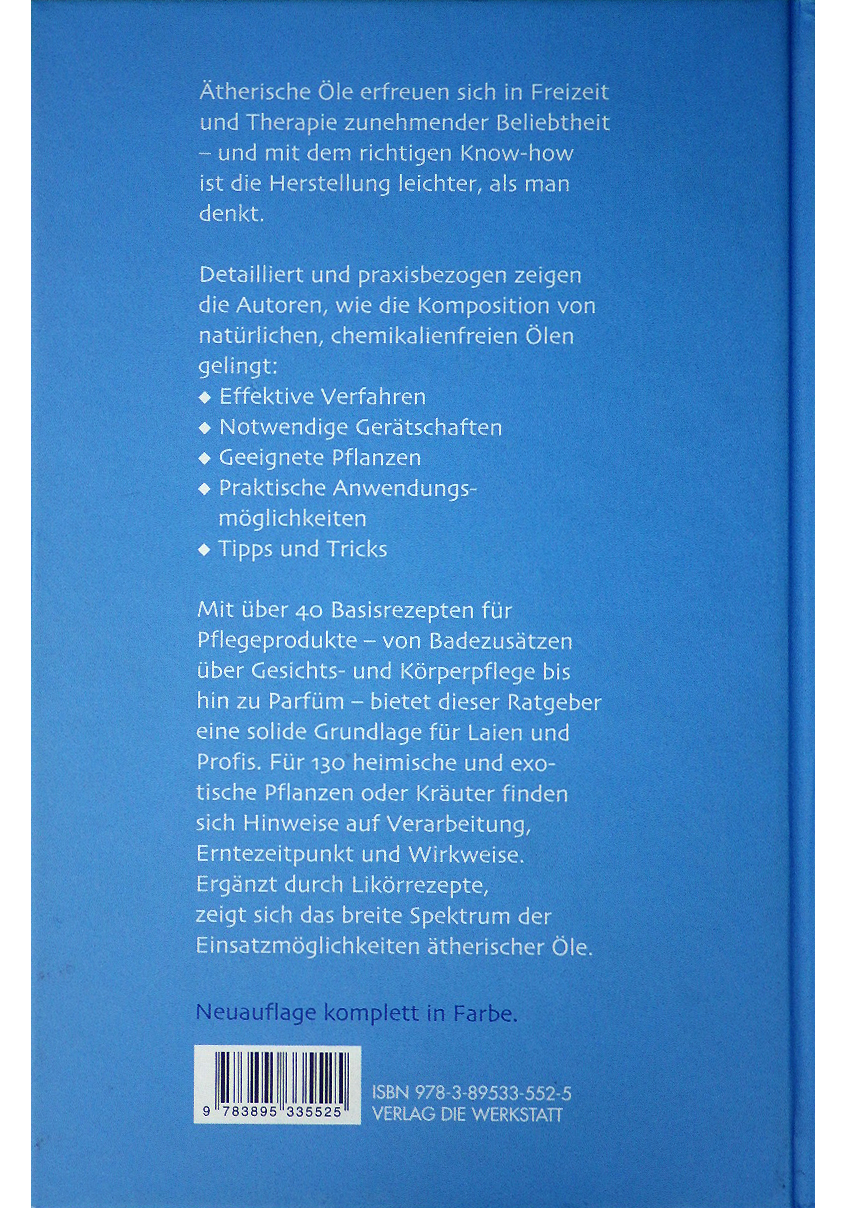 Bettina Malle, Helge Schmickl
Verlag Die Werkstatt
6. Auflage 2017
192 Seiten, Hardcover,
durchgehend farbig bebildert
ISBN: 978-3-89533-552-5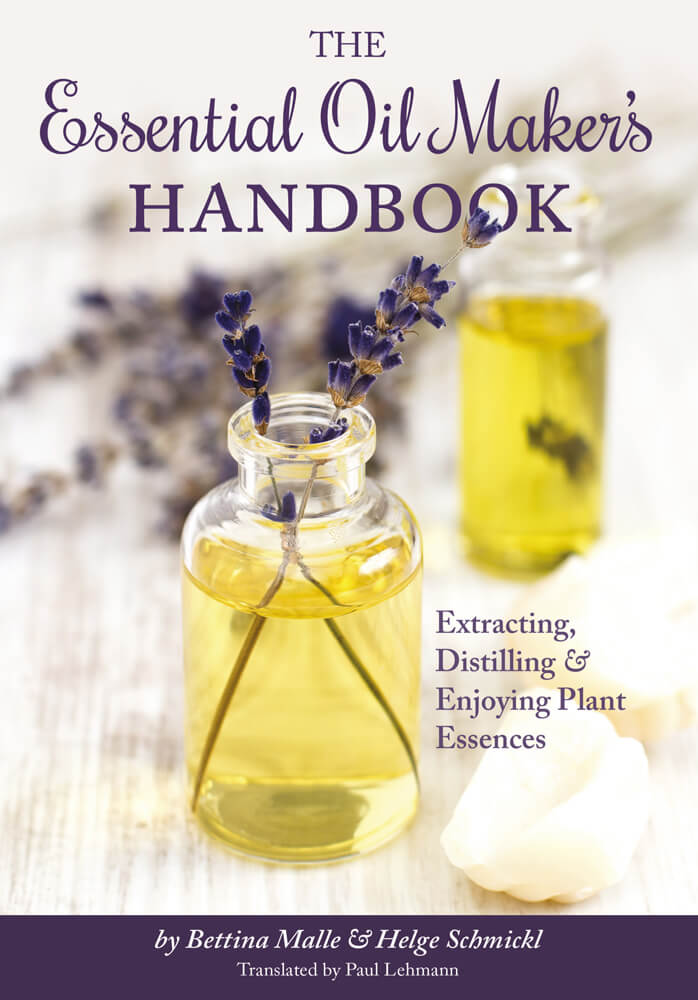 The Essential Oil Maker's Handbook
Extracting, Distilling, and Enjoying Plant Essences & Hydrosols: With their pleasing scents and uses in natural remedies, essential oils are more in demand now than ever. Unfortunately, modern production methods and unscrupulous labeling practices make it extremely difficult for consumers to know whether an oil is genuine or artificial, and increasingly the only way to be certain that your essential oils are free from chemical additives is to make them yourself.
Producing your own essential oils and hydrosols in small quantities is easier than you might think, especially with the guidance of Austrian master distillers Helge Schmickl and Bettina Malle. Translated from its original German, The Essential Oil Maker's Handbook has been revised and updated to include information on hydrosols, the aromatic water once considered a mere by-product but now recognized as a valuable substance in itself. Learn how to make your own shower gels and creams using essential oils that you created yourself out of materials from your garden and pantry, without chemical additives.
The authors provide guidance, based on data from their own experiences, on the harvesting, processing, and use of 130 indigenous and exotic plants as well as the necessary equipment for oil extraction. This guide covers in detail:
Effective procedures
Necessary equipment
Suitable plants
Practical uses for your oils
Tips and tricks
Including about 40 base recipes for personal care products—from bathing additives to facial and body care to perfume—this book provides a solid foundation for both beginners and professionals. This detailed and authoritative reference is indispensable in appreciating the production and wide range of applications of essential oils.
INHALTSVERZEICHNIS:
Preface to the English-Language Edition
Preface to the First Edition
Introduction
Historical Overview
Basics

WHAT ARE ESSENTIAL OILS AND HYDROSOLS?
Essential oils, Hydrosols, Extracts, Aqueous extracts, Alcoholic or oily extracts
USES
Aroma baths, Flavoring, Skin care, Fragrant oil burners, Hair care, Internal uses, Body and massage oils, Liqueurs, Perfumes
EXTRACTION METHODS
Steam distillation, Fractional distillation, Co-distillation, Cold pressing, Solvent extraction, Enfleurage, Maceration/Infusion, Resinoid process, Carbon dioxide extraction
CHECKING THE QUALITY

Making Your Own Oil, Step by Step

STEAM DISTILLATION
The principle, Stills, Building your own still, Tea kettle, Pressure cooker, Wok still, Classic still with a lyne arm, Classic still with a vertical condenser, Glass still, Buying a still, Small stills, Large stills
Preparing the plants
Harvest: Roses and jasmine, Lavender, Herbs, Citrus fruits, Seeds, Branches
Cutting up the plants: Citrus fruits, Spice seeds, Dried herbs, Fresh herbs, Juniper berries, Bark, Petals, Conifers
The distillation process
Filling
Distilling
Double distillation: First distillation, Second distillation
SEPARATING THE HYDROSOL AND THE OIL
Syringe: Oils lighter than water, Oils heavier than water
Pipette
Separatory funnel: Oils lighter than water, Oils heavier than water
Automatic oil separator
Florentine flask or essencier
Cleanliness
CALCULATING THE YIELD
COLD PRESSING
MACERATION
ENFLEURAGE
STORING OILS
Excessively high and low temperatures

Distillable Materials

TYPES OF PLANTS, SPECIFIC INSTRUCTIONS FOR DISTILLATION
Allspice / pimento, Angelica, Anise, star anise, Balm, lemon balm, bee balm, Balsam poplar, Basil, Bay laurel, Bay rum tree / West Indian bay tree, Benzoin, Bergamot, Birch Bitter orange / neroli, Bitter orange / petitgrain, Broom, Cajuput, Camphor, Caraway, Cumin, Cardamom, Cedar, Celery, Chamomile, Cilantro, Cinnamon, Citronella, Clary sage, Clementine, Clove, Cotton lavender, Cypress, Damiana, Davana, Dill, Elecampane, Eucalyptus, Fennel, Fir, Douglas, Frankincense, Garlic, Geranium, storksbill, pelargonium, Ginger, Grapefruit, Ground ivy, Hemp, Hogweed, Hops, Hyssop, Iris, Jasmine, Juniper, Larch, Lavender and lavandin, Lemon, Lemon verbena, Lemongrass, Lime, Lovage, Marigold, Marjoram, Mint: spearmint, pennyroyal, field mint, peppermint, Mountain pine, Mugwort, Myrrh, Myrtle, Narcissus, Nutmeg, Oakmoss, Orange, Oregano, Palmarosa, Palo santo, Parsley, Patchouli, Pepper, Peppermint, Queen Anne's Lace (Wild Carrot), Ramson, Rockrose, Rose, Rosemary, Rosewood, Rue, Sage, Sandalwood, amyris, Savory, Scotch pine, Spike lavender, Spikenard, Spruce, Norway spruce, St. John's wort, Strawflower, immortelle, everlasting, Swiss pine, Tangerine, Tansy, Tarragon, Tea tree, Thuja, Thyme, wild thyme / creeping thyme, Tuberose, night hyacinth, Turmeric, Valerian, Alpine valerian, spikenard, Vetiver, Violet, Wattle, mimosa, Wormwood, mugwort, Yarrow, Yellow jade orchid blossoms, champaca, Joy, Ylang-ylang / cananga
OVERVIEW: PLANTS AND THEIR EFFECTS

Using Your Oils

BASE SUBSTANCES AND MATERIALS
Neutral carrier oils: Almond oil, Avocado oil, Corn oil, Jojoba oil, Macadamia oil, Olive oil, Sesame oil, Soy oil, Sunflower oil, Walnut oil
Additives: Alcohol, Beeswax, Hydrosol, Lanolin (wool fat), Soap flakes, Soft soap
Shaking the hydrosol
Equipment
SAFETY PRECAUTIONS
BATH ADDITIVES
Full bath additive, Bath salts, Shower gel, Footbath additive
FACIAL AND BODY CARE
Milky cleanser, Cleansing oil, Makeup remover, Exfoliant (face scrub), Face packs, Facial cleanser, Facial cream, Night cream, Massage oil, Facial oil, Sunscreen oil, Deodorant, Mouthwash
SHAVING
Shaving soap, Aftershave
HAIR CARE
Shampoo, Hair tonic (conditioner)
SOAP
PERFUME
LIQUEURS
Absinthe flavor (Swiss style I), Absinthe flavor (Swiss style II), Anise I, Anise II, Caraway, Caraway, Breslau style, Caraway, Danzig style, Carmelite style, Cherry, Jenever style, Krambambula, Lemon, Peppermint
Crèmes: Anise, Anisette, Bitter liqueur, Caraway liqueur (Magdeburg style), Danziger Goldwasser style, Eisenbahn (railroad) liqueur, Peppermint liqueur I, Peppermint liqueur II, Raspberry, Rose liqueur
MISCELLANEOUS
Black tea, Sauna infusions, Fragrant oil burners, Potpourri, Air freshener sprays, Gauze pads, Inhalant, Ironing water, Laundry

Frequently Asked Questions
Afterword
Harvest Calendar
Index
About the Authors
Link kopieren
Zum kopieren alles markieren und CMD+C (Strg+C) drücken.